Saturday, January 31st, 2009
Fair Earth has developed a relationship with Paper Craft to bring you a beautiful product line of hand-made paper products.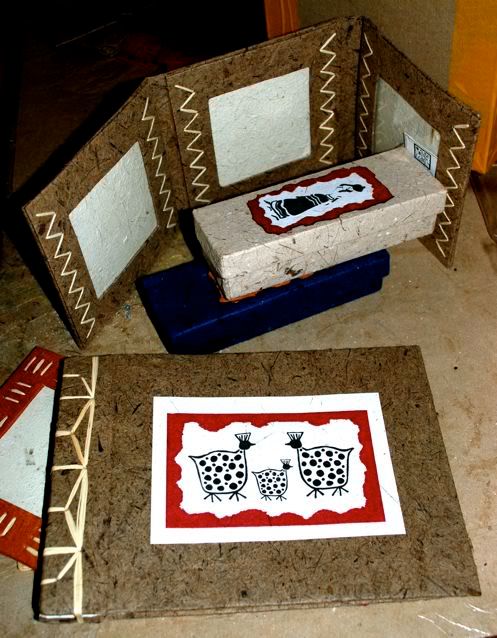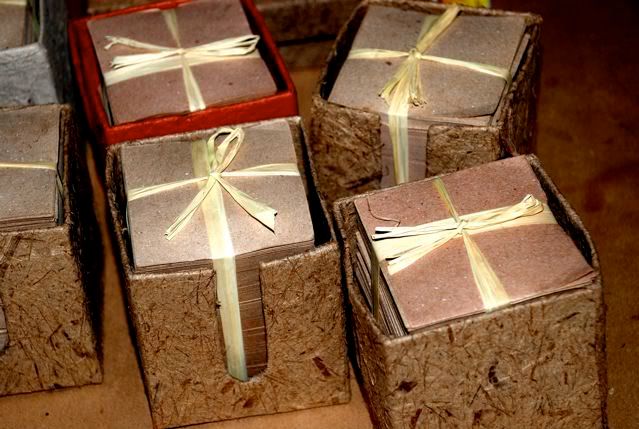 Following is information, used with permission, from their website.
About Us
Paper Craft produces beautiful hand made paper in Uganda using only natural raw materials such as banana fibers, pineapple tops, elephant grass and recycled paper. No chemicals are used! This paper is then transformed into beautiful as well as useful products and unusual crafty creations.
Paper Craft was set up in 2006 to provide a sustainable income for a group of socially disadvantaged Ugandans, (mainly women) through the production and sale of hand made paper and paper products. The majority of our employees would otherwise find it almost impossible to find a job or to support their families.
We provide additional income to local farmers by purchasing elephant grass and banana fiber. We also buy pineapple tops which are considered to be waste and would otherwise be burnt, as well as collecting scrap paper from offices in Kampala.
By choosing Paper Craft you are supporting a self-sufficient sustainable business, promoting environmental awareness and encouraging recycling.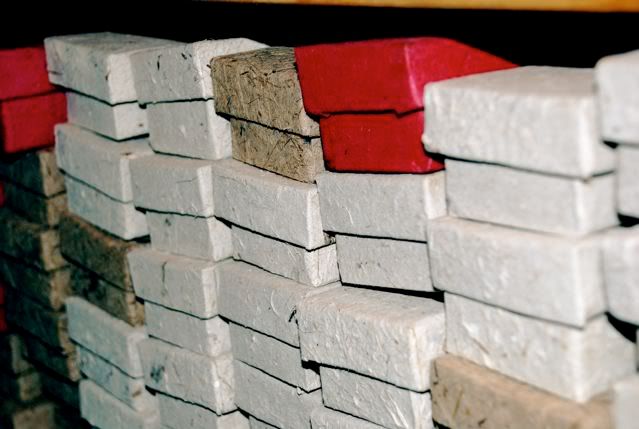 Our Workshop
We found a little house on the side of a hill.
A garden with mango trees, avocado and jackfruit.
The floors were made of earth and there was no electricity.
The walls were un-plastered and the doors not there.
So we set to work transforming this house;
we cemented the floors and plastered the walls,
added a verandah and brought in the electricity.
We started from scratch buying everything we would need;
a blender, a press, scissors, paper and glue,
tables and chairs, a computer, a printer
and a paper cutter or two;
drying screens, a generator; drums for water
and of course new designs from geckos to warthogs.
You should see our workshop now
A real hive of activity!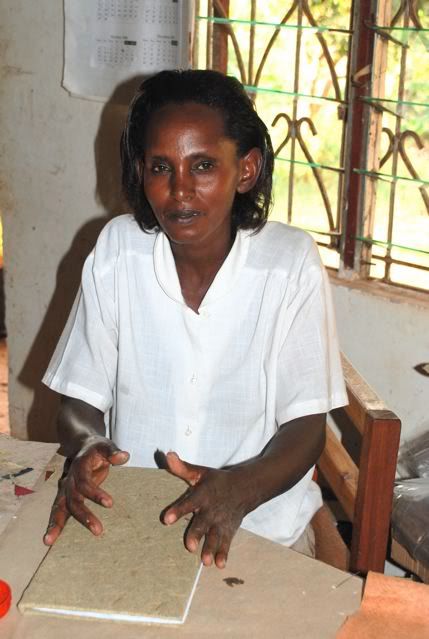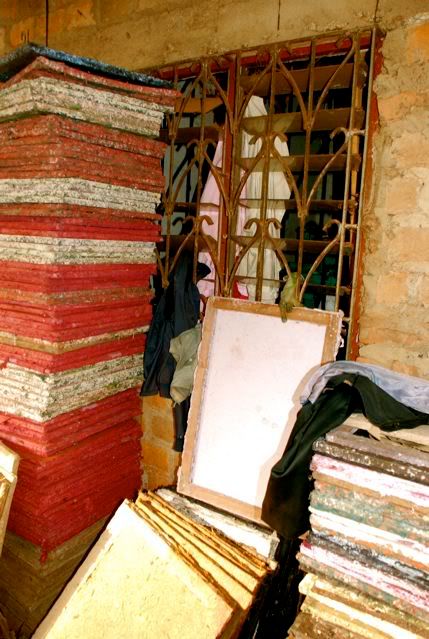 The Natural Way to Make Paper
1. Banana fibers, pineapple tops and elephant grass are cut into small pieces and boiled for 8 hours.
2. When the fibers are soft they are blended and recycled paper is sometimes added to create different textures and colors of paper.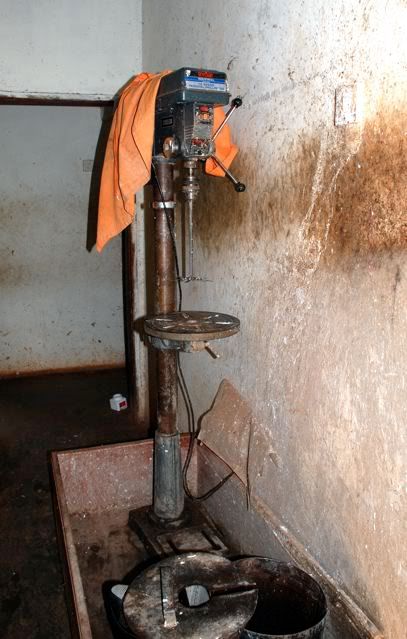 3. The pulp is mixed in large water containers and is removed using screens made of mosquito mesh.
4. These racks, covered in the pulp, are then put in the sun to dry.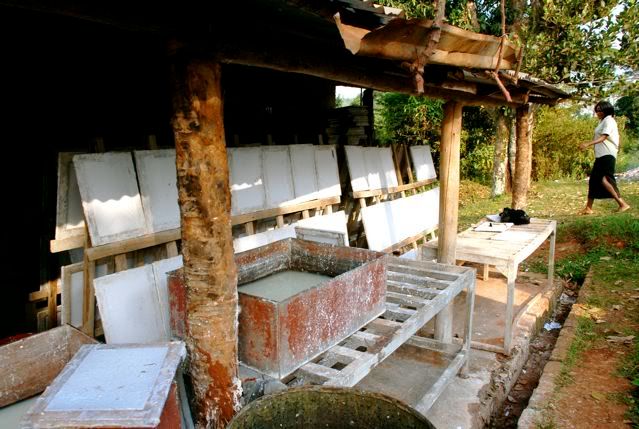 5. The dry sheets of paper are removed from the screens and put into a press to squash them flat.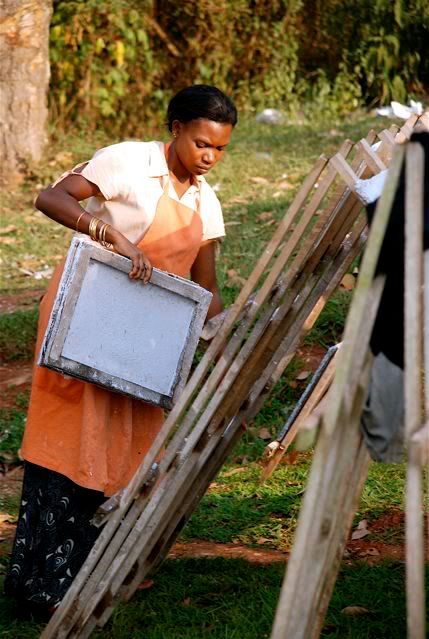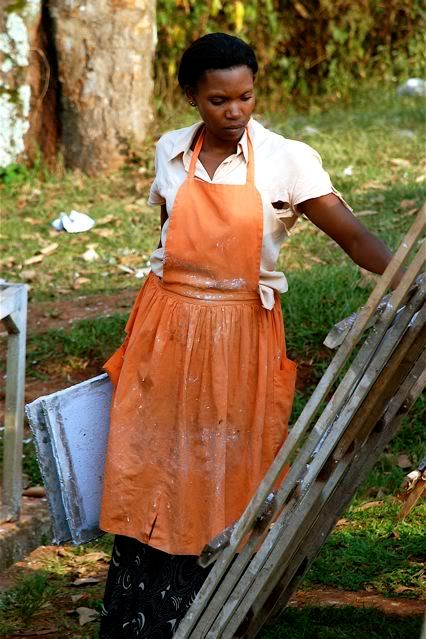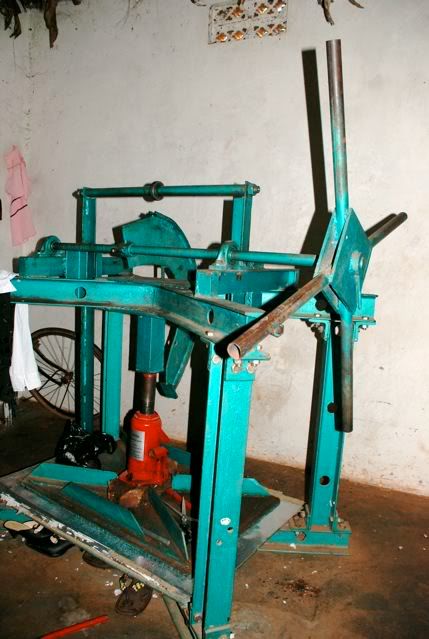 Banana Fibre Paper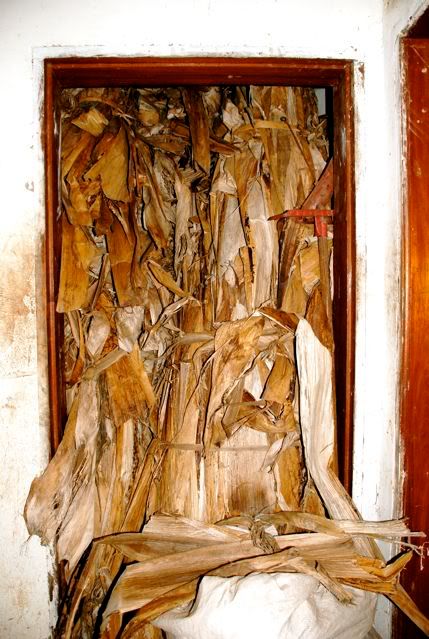 Uganda is Banana Country. Not only does Uganda grow delicious sweet bananas but also green bananas or 'Matoke' which are the staple food for most of central and southern Uganda. Some of our paper is made using banana fiber which comes from the stem of the Banana plant (which is rather like an onion as it is made up of many layers). When the outer layer dries it can be peeled off the stem without killing the plant itself.
Pineapple Top Paper
Uganda also has THE most delicious pineapples in the world! We use the discarded tops of the pineapples which we collect from local markets and which are usually considered to be rubbish.
Elephant Grass Paper
As the name suggests this is a giant, course yet luscious grass that is used to feed cows and pigs and to stop erosion.
Bark Cloth
This is a very special material indigenous to Uganda that comes from the bark of a fig tree called 'omutuba'. Bark is stripped from the tree, (without killing the tree) soaked in water and then beaten with a mallet and dried. Traditionally it was used as clothing. Paper Craft uses it to cover albums, photo frames and note books and to decorate cards. It is the same color as a ginger nut biscuit.