Kazuri - a bead to match every mood
I first encountered Kazuri beads in a shop in Kampala, Uganda. Immediately I was enamored. My eyes relished the voluptuous curves of shiny hand-made beads artfully strung into captivating necklace, earring, and bracelet designs. I wanted to try each piece on, and finally settled upon a necklace named "African Sunset" which was generously given to me as a gift. The necklace was strung with circular rusty red beads reminiscent of African soil and the colors of the night sky, offset by artfully shaped smaller beads colored and polished a rich tan color.
I set my mind upon finding the artists who made these creations. I learned they were in Nairobi, which was my next destination. We got horribly lost the first night there when our taxi driver drove around for hours in search of our hotel, and ended up at a random guesthouse, exhausted, in the early hours of the morning. Confused and disoriented when the sun rose, I was shocked and exhilarated to find that I was within walking distance of the Kazuri beads workshop.
Upon entering the compound I saw a sign that said "Kazuri - a bead to match every mood." Walking into the shop, I saw that this certainly was the case. I was soaking in a visual feast of beads in every shape and color I could imagine. I was even more impressed by the social mission behind Kazuri. They employ over 340 women, mostly single mothers, and also provide for them health care.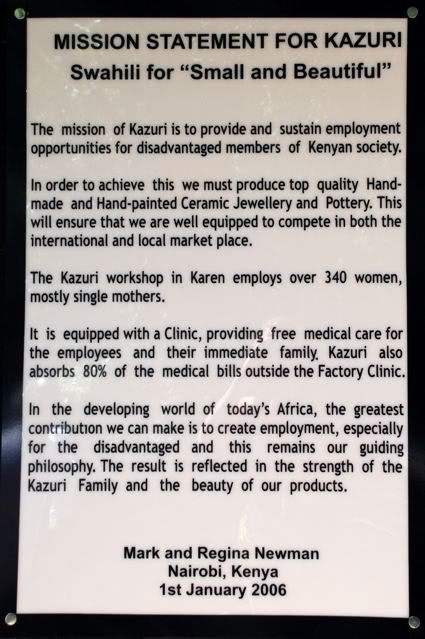 Kazuri means "small and beautiful" in Swahili, a name which reflects the uniqueness and beauty of each hand-crafted and hand-painted piece. Kazuri designs are rich in color and alive with collaborative creativity. The organization was started in 1975 by Susan Wood, working initially with two African women experimenting in making hand-made beads. They have expanded drastically since then, growing both in their knowledge and skill of ceramics as well as the impact they are making in the lives of many women. Kazuri provides employment opportunities to several women in the Nairobi area, most of whom are single mother who are in great need of regular employment.
We are excited to bring you a comprehensive collection of Kazuri beads creations for 2009. The designs are reflective of the rich diversity and colors of Africa. With product names such as Papyrus, Lavender Girl, Night Sky, Bush Fire, Lichen, Lapis, Rain Forest, Acacia, Marina, Satellite, Monsoon, Golden Fox, Sand Storm, Bedouin, Ox Blood, Dawn Music, Savanna, and many others, you are sure to find a design that exactly suits your particular mood and style!
I hope all of you are well, and I look forward to seeing you in March!
Sincerely,
Holly Elzinga
www.ourfairearth.com