the Local Market of Mimi's Organic Exchange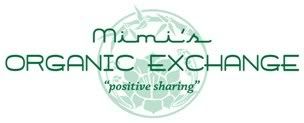 LOCAL MARKET
Mimi's Organic Exchange
and Leeway Room
855 West Blackhawk Street
Chicago, IL 60642 USA
Think globally, enjoy locally
Saturday, August 8th 12pm-7pm
Sunday, August 9th 12pm-6pm
The Local Market of Mimi's Organic Exchange is the perfect place to shop local, unwind and learn about sustainable living. Items for sale range from essentials to one-of-a-kind. Local artisans will showcase a variety of products, including clothing and accessories, art, jewelry, stationary and home decor. Meet great holistic health and wellness service providers, and enjoy performances by featured local musicians.
Find the Market at the Leeway Room on Blackhawk - 2 blocks between the new REI Store on Halsted and Whole Foods on Kingsbury, off North Ave.
Featured last month in Local First Chicago, we invite you to support your community and learn how local artisans create sustainable living and a greener tomorrow. More markets September 12th-13th and the second weekend of every other month, starting in November.
Vendors, musicians and others interested in the MOE Market may contact Mimi Clayton at mimisorganicexchange@gmail.com or 773.991.3835. 
For updates and scheduling of MOE events, visit www.mimisorganicexchange.com. Held at Leeway Room: www.leetracy.com/space.html
Mimi's Organic Exchange (MOE) is a business, arts and healing network committed to socially, environmentally and spiritually sustainable products and services. A cornerstone of Mimi's Organic Exchange is creating community through support of local micro-businesses.