Archive for April, 2010
Thursday, April 22nd, 2010
Fair Earth will be exhibiting at Columbia College's EcoFair. Come say hi!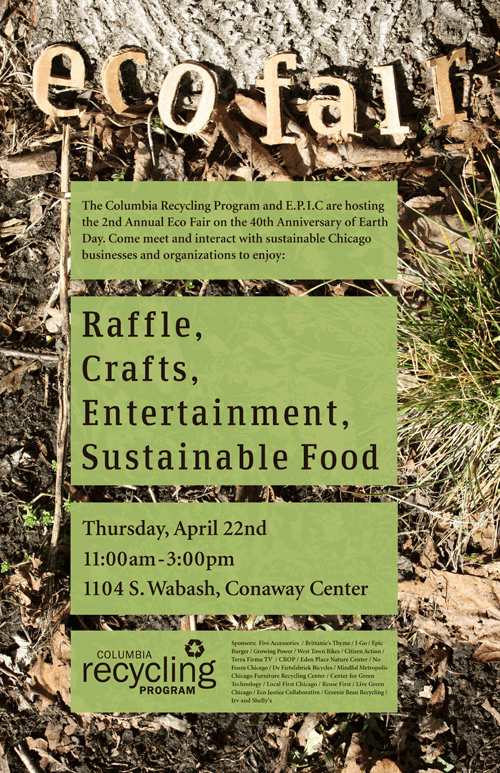 For more information visit Columbia College Recycling.
Tuesday, April 6th, 2010
A Benefit for Seven Non-Profits

This party is to fundraise for seven non-profit organizations that raise awareness about education for all children, fair trade, and living in sustainable environment (think green!).
************************************************************
Masquerade for a Cause!
Wednesday, April 7th
Simone's Bar 960 W. 18th St.
Time: 7pm to close 2am
Hosted by Ervin Lopez
7pm - 9pm: Looking for volunteer opportunities? internships? responsible travel tourism?
Meet and greet the seven non-profit organizations:
Los Patojos/Rising Minds, Chicago Fair Trade, Greenheart, Mayaworks,
Womancraft, Academy for Global Citizenship, UNICEF-DePaul U.
FREE appetizers: vegatable quesadillas, tortilla chip chicken fingers, empanadas, and more!
9pm - 2am: music provided by Chicago dj's: Omar Perez, Rick Perez
21 to enter, $10 door charge
Buy your tickets in advance!

***DRINK SPECIALS***
$5.50–> Cupaca Chupacabra (micro-brew from Calexico, California)
$5 –> a tall boy of PBR with a shot of Jameson

************************************************************
70% of proceeds will go the following seven organizations:
1. Los Patojos & Rising Minds
2. Chicago Fair Trade
3. Greenheart
4. Mayaworks
5. Womancraft
6. UNICEF-DePaul University
7. Academy for Global Citizenship