Thursday, May 26th, 2011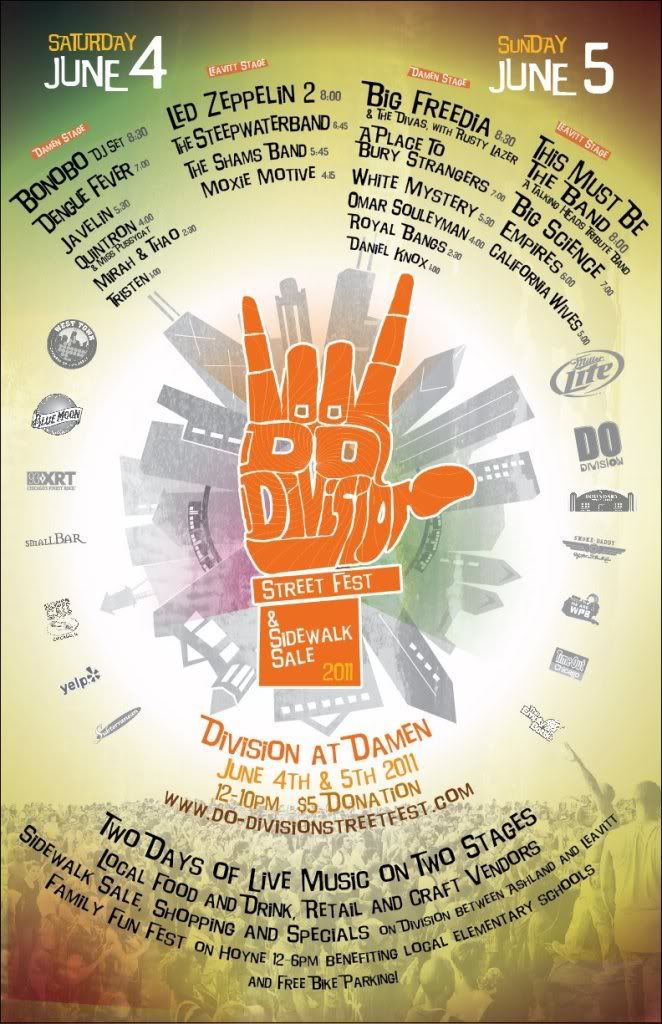 WHEN:
Saturday & Sunday, June 4th & 5th, 2011
12-10pm
WHERE:
Street Fest: on Division Street between Damen & Leavitt
Sidewalk Sale: on Division between Ashland & Leavitt
HOW:
There is a $5 optional donation requested to enter the street fest portion of the event. The event is easily accessed by public transportation and there is FREE and ample bike parking available.
WHO:
Proceeds benefit local non-profits: West Town Chamber of Commerce & Division Street Committee providing beautification and marketing programs for the Division Street commercial corridor; PLUS three local elementary schools: A.N. Pritzker Elementary School,  LaSalle II Magnet School, and De Diego Elementary Community Academy.
SIDEWALK SALE:
Division Street businesses within the festival site utilize their sidewalks to promote themselves or sell retail wares.  If you are a business on Division Street, click here to learn more about the opportunities and guidelines for businesses during the event.
FAMILY FUN FEST:
There will be a family fun fest area on Hoyne Avenue between Division Street and Potomac within the fest site operating both days from 12-6pm. All of the proceeds in Family Fun Fest benefit local elementary schools: A.N. Pritzker Elementary School & LaSalle II Magnet School. Click here to learn more about Family Fun Fest.
VENDORS:
The street fest features 12 food vendors and over 85 retail and sponsor vendors. Local restaurants, businesses, and artisans receive priority acceptance and there is a wide variety of interesting offerings. This is not your cookie cutter street fest event! This years local restaurants participating include: Mana Food Bar, The Smoke Daddy, ChickPea, Starfruit Cafe, and Subterranean. Don't miss the Jameson infused ice cream from The Boiler Room, and the amazing sausages from Cevapcici, plus Jones soda will be sampling. Beer selection will include sponsoring brands Miller, Blue Moon plus Leinenkugel Amber Ale. Retail vendors will feature hand crafted jewelry, original silk screened T-shirts, fine art, handmade pottery, air brushed tattoos, unique crafts, organic rugs, soaps, sunglasses, sundresses, candles and more!
SPONSORS:
Special thanks to our generous sponsors: Miller Lite, Blue Moon, WXRT, The Boundary, SmallBar, Smoke Daddy, House Call Entertainment, Empty Bottle Presents, Subterranean, WeAreWPB, Time Out Chicago, Yelp, and the Division Street Committee.
MUSIC:
The Damen Stage is booked by Empty Bottle Presents and the Leavitt Stage is booked by Subterranean / House Call Entertainment.  This festival is known for it's cutting edge music and this year there is a lot of buzz around Dengue Fever, Led Zeppelin 2, Big Freedia, Mirah & Thao, Omar Souleyman, and California Wives. Click here for the complete line up.
MORE LINKS:
Click here for the Do Division Street Fest & Sidewalk Sale Press Release.
Click here for fest pictures from past years by REP3.
Click here for the Do Division 2011 POSTER.
West Town Chamber of Commerce
1819 W. Chicago Ave.
Chicago IL 60622
www.westtownchamber.org
312-850-9390 tele
312-850-9414 fax
info@westtownchamber.org